SISD Administration will hold three community meetings to discuss the educational framework for the two pathways discussed during the October 7th Community Meeting. Please make an effort to attend one of the meetings. Each meeting will provide the same information. Please join us in the SJHS cafeteria from 6-7.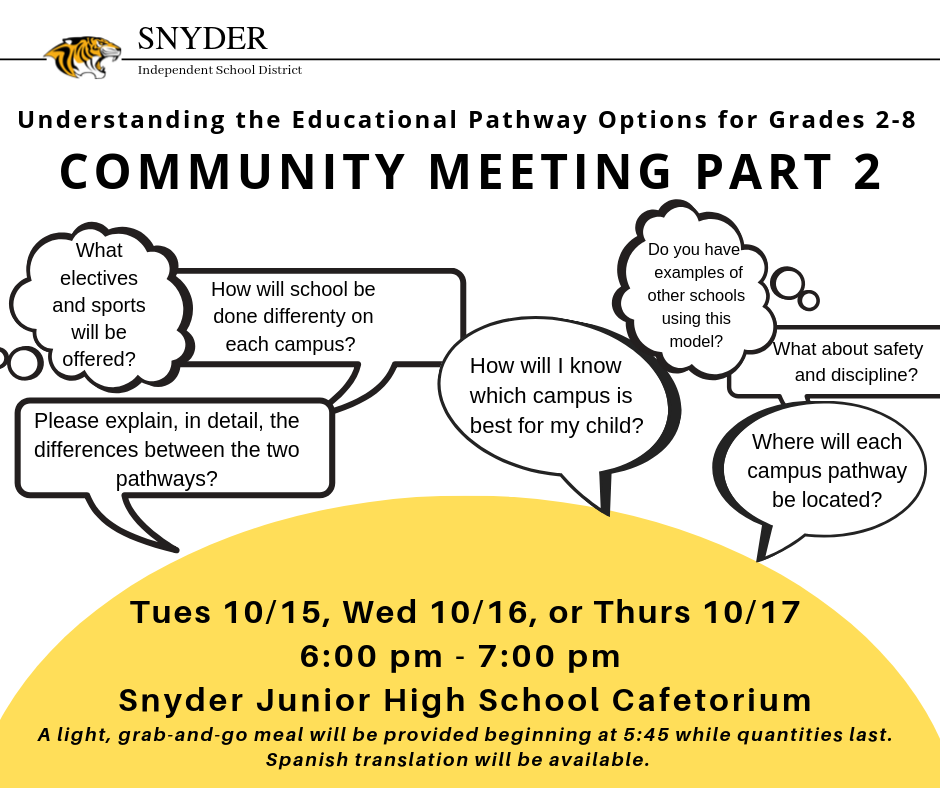 Last call!! If you have not attended a drug policy presentation, you have one more opportunity to do so!! Reminder- all UIL 7th -12th grader competitors and or student drivers must attend one meeting with a parent/legal guardian. Join us Tuesday, August 20th from 5-6 in the cafeteria.

It's a great day at SJHS! Technology roll out coming soon! Stay tuned!

Snyder Primary Parents- Take note of staggered dismissal times, please. Mon-Thurs PK-K—3:15 PM 1st Grade—3:30 PM 2nd-3rd Grades—3:45 PM Dismissal times: Friday PK-K—1:15 PM 1st Grade—1:25 PM 2nd-3rd Grades—1:35 PM

Have you missed an opportunity to complete the drug policy presentation? Tonight is the last chance before school begins! Stop by the SJHS campus during the 7& 8th-grade open house tonight from 5:30-7:00 and take care of business! Presentations will run every 15 minutes in the library. Parents must accompany their student! All incoming 7th-12th graders UIL participants must attend a presentation. Keep in mind: *Each participant only has to attend one presentation. *All presentations are the same regardless of campus, presenter, or organization. Same policy district-wide. *Parent and participant(s) must attend together.